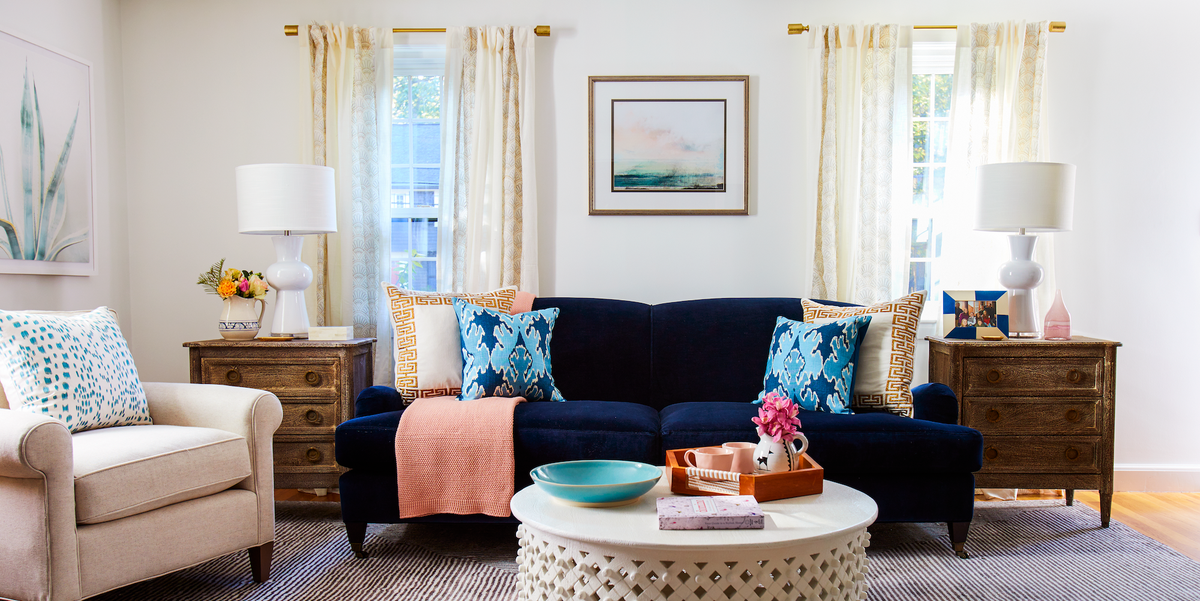 We may earn commission from links on this page, but we only recommend products we back. Why trust us?
There's nothing a few throw pillows can't fix.
Sep 27, 2019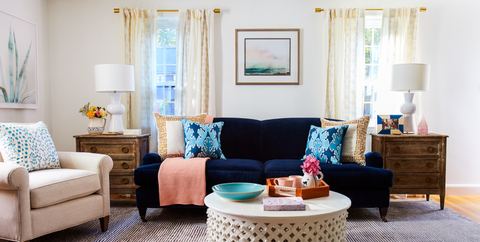 Mike Garten
Whether it's a complete overhaul or a quick refresh, spice up the family's favorite room with these pro tips.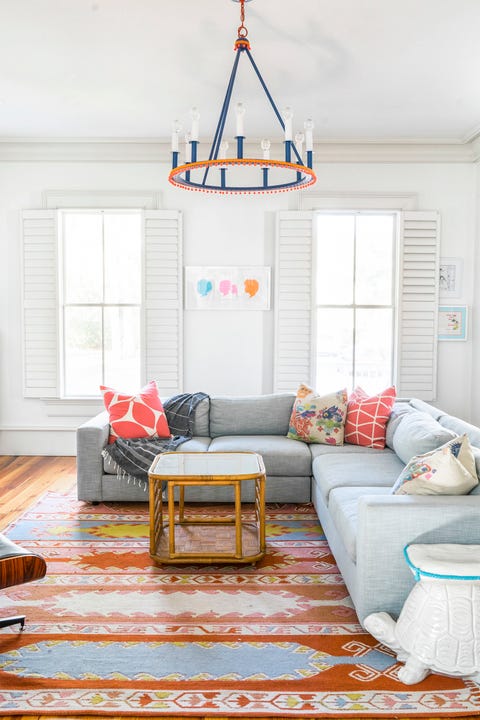 Abby Murphy
1 of 53
Colorful Light Fixture
Update an unattractive, outdated light fixture with a few coats of paint, round bulbs and pom-pom fringe for a whimsical touch. Strong colors overhead pull together the room's eclectic vibe.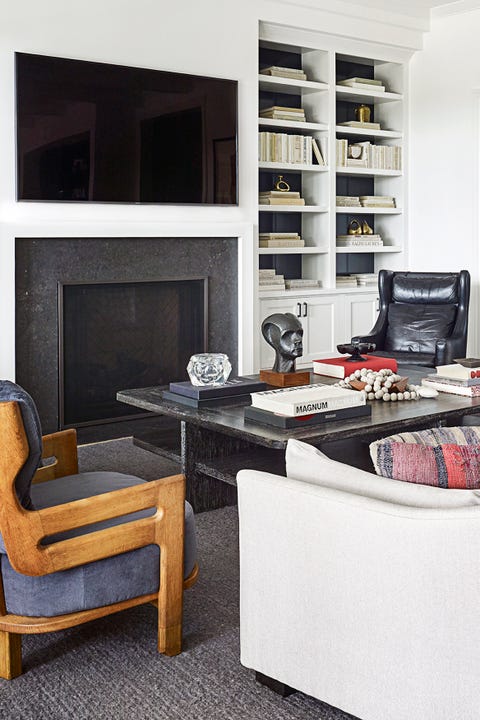 Peter Murdock
2 of 53
Streamlined Shelves
Refresh your storage by taking the jackets off old books (load up at yard sales) to expose the stitching or covering your collection with coordinating papers.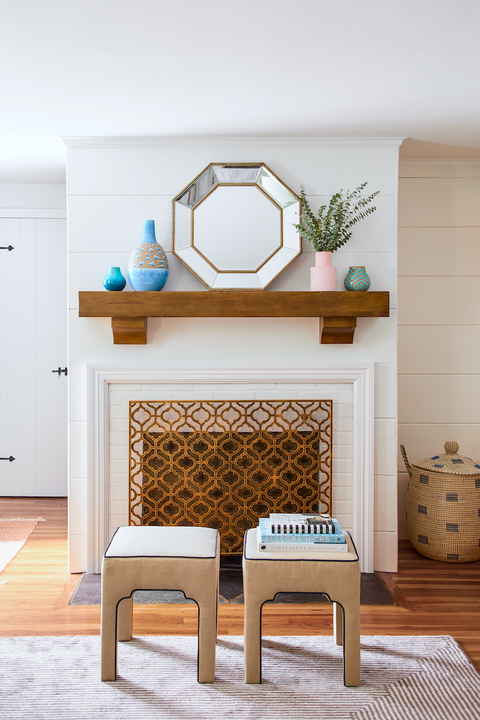 Mike Garten
3 of 53
Tilted Mirror
For a laid-back look on your mantel, rest a sturdy style against the wall – no hammering required.
SHOP MIRRORS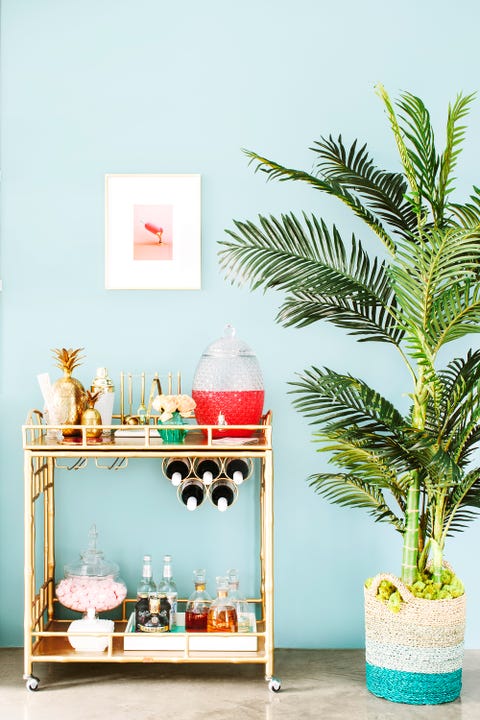 Mary Costa
4 of 53
Lush Leaves
Fill any underused nook or corner with a big, ol' houseplant and it can instantly become the personality-packed focal point of the room. Tuck the pot in a cute basket for an extra punch.
SHOP PLANTS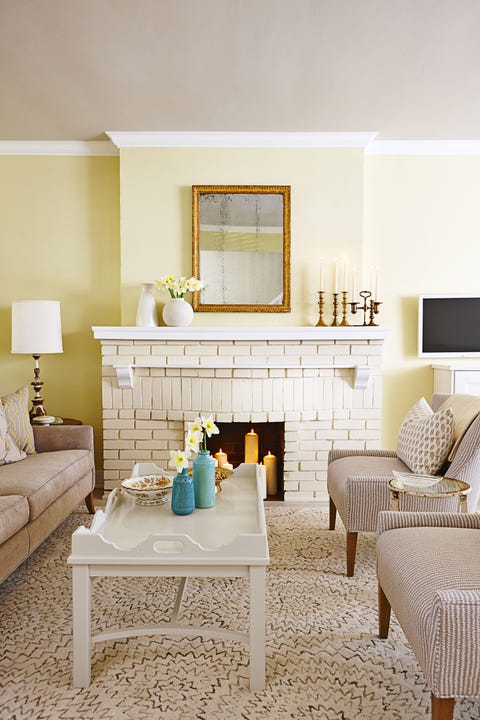 Stacey Brandford
5 of 53
Painted Brick
Update an old-school brick fireplace (or wood paneling) with a coat of cream paint like this sunny home. Take that, '70s-era decor.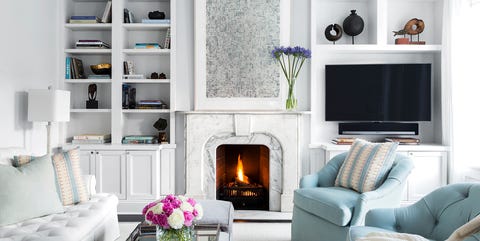 Ball and Albanese
6 of 53
Soothing Palette
Let the vibes flow from room-to-room with another clever paint tip. "I often paint a home one color throughout," says Susana Simonpietri, interior designer and cofounder of Chango & Co. "Or, I'll try the softest hue in the room that gets the most natural light, then work through the rest of the home with deepening shades of blue and gray."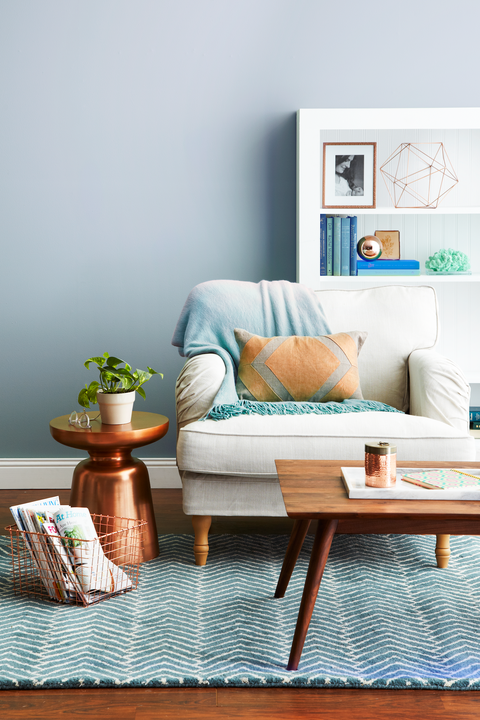 Erika LaPresto/Studio D
7 of 53
Slate and Copper
Mix metallic accents (we see you, adorable end table) with traditional wood pieces for added depth to your living room decor.
SHOP COPPER TABLES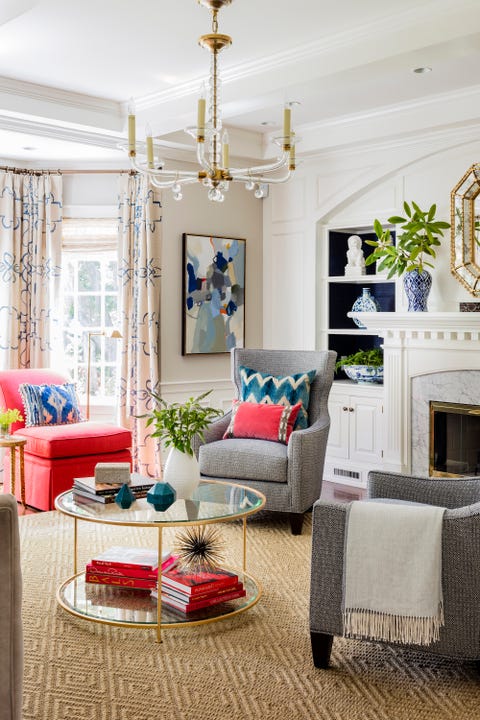 Michael J. Lee
8 of 53
Better Flow
It's not as much about where you put your furniture as it is about the types of pieces you choose. "In each room I design, I try to include at least one round piece, such as a coffee table, that people can walk around without bumping their knees," says interior designer Katie Rosenfeld. "I also add a few armchairs and a versatile piece like a garden stool that can be used as a stool to sit on or as a table for a drink."
SHOP ROUND TABLES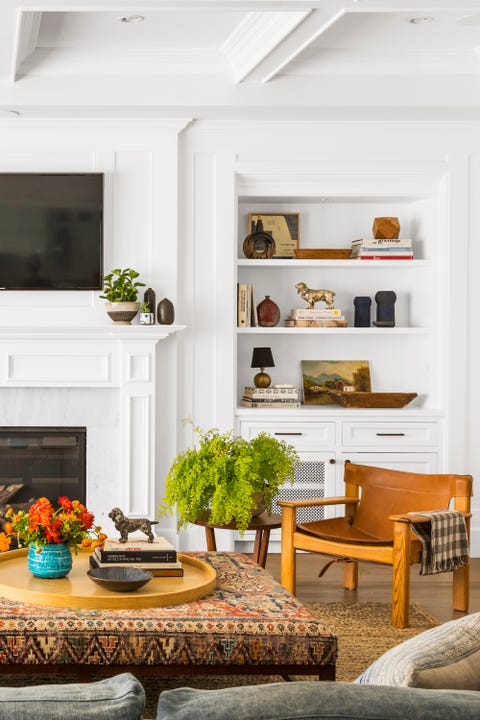 Lisa Romerein
9 of 53
Streamlined Screen
Don't let your primetime viewing habits impede your style. "Go for a slim TV (mine is a Samsung), and use a thin mount that lets it sit flat against the wall," says lifestyle blogger Carley Knobloch. "Then have the wires threaded through the wall so it looks uncluttered."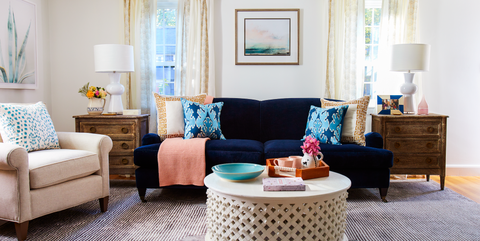 Mike Garten
10 of 53
Velvet Sofa
Make the living room feel airer (and infinitely bigger) by replacing a bulky sectional with pretty seating. Besides, what feels more luxe than velvet?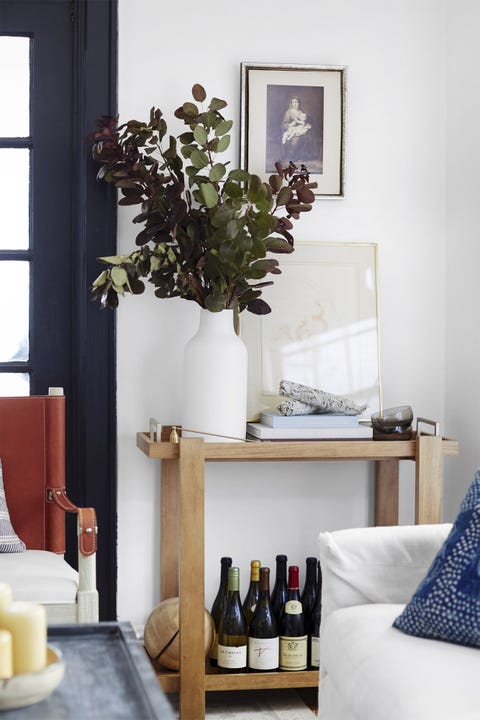 Emily Johnston
11 of 53
Dual-Purpose Bar Cart
Setting up a booze station on your bar cart is a no brainer — but using it as an end table (especially when space is limited) to display blooms, art and coffee table books is just genius.
SHOP BAR CARTS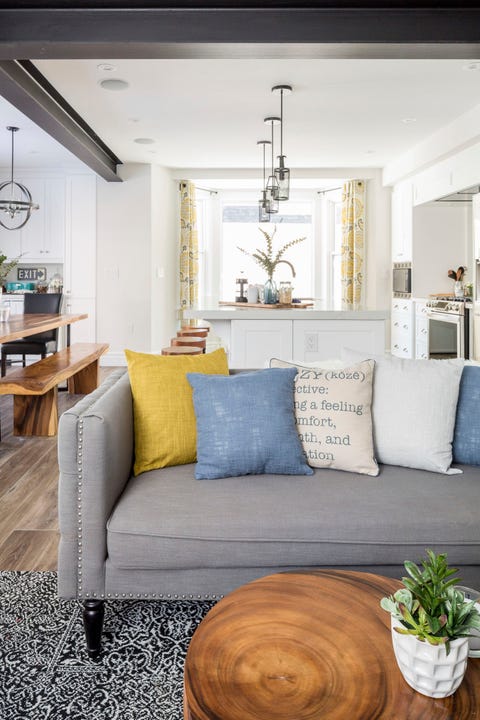 Jason Hartog
12 of 53
Low Furniture
Short pieces, like this tufted couch, keep an open floor plan cozy. Use area rugs to define individual "rooms" within the space.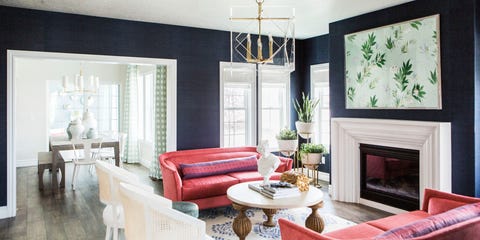 Kate Osborne
13 of 53
Navy Walls
Give beige a break. Dramatic hues can drench a large living room, like this inky wallpaper. The deep blue provides a surprisingly neutral backdrop.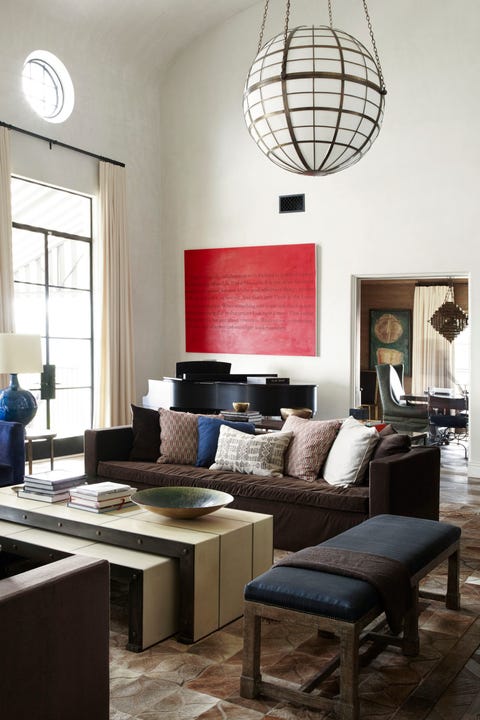 Art Streiber
14 of 53
Comfy Seating
Your style may be posh, your furniture can still be cozy. Plush sofas and armchairs rule the roost in Ellen Pompeo's L.A. home. "It's fancy in a cool way, not in an 'I can't sit there' way," she says.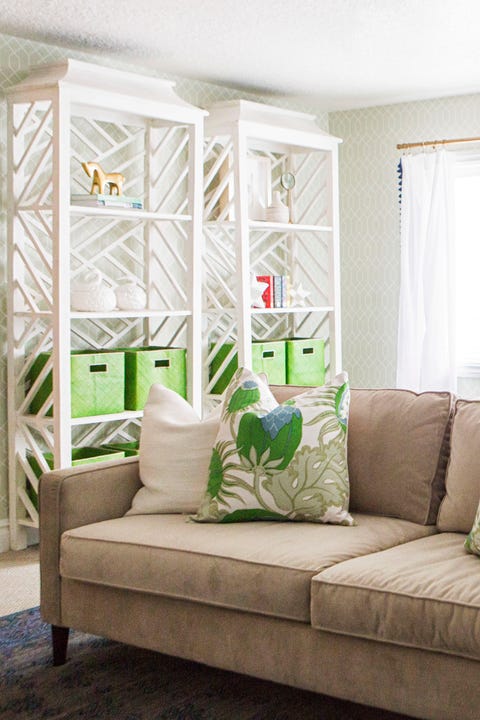 Kate Osborne
15 of 53
Chic Storage
Need space, stat? Swap boring shelving for more decorative options, then load up on fabric boxes or baskets to hide an overflow of knick knacks.
SHOP FABRIC BOXES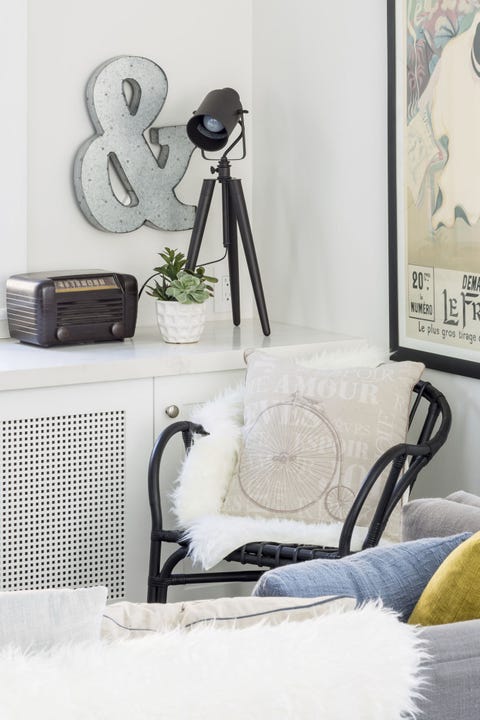 Jason Hartog
16 of 53
Slim Footprint
Save square footage without sacrificing seating by using dining chairs in the living room. A rattan-and-cane perch takes up less real estate than a traditional recliner.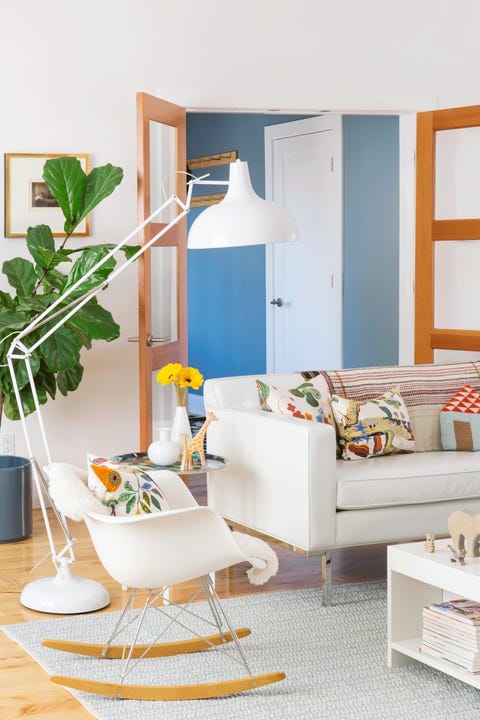 Lisa Romerein
17 of 53
Family-Friendly
Yep, white furniture can work in a house with kids. Just choose durable fabrics (a leather couch) and surfaces (the plastic rocker, the lacquer table) that wipe clean easily.
SHOP ROCKING CHAIRS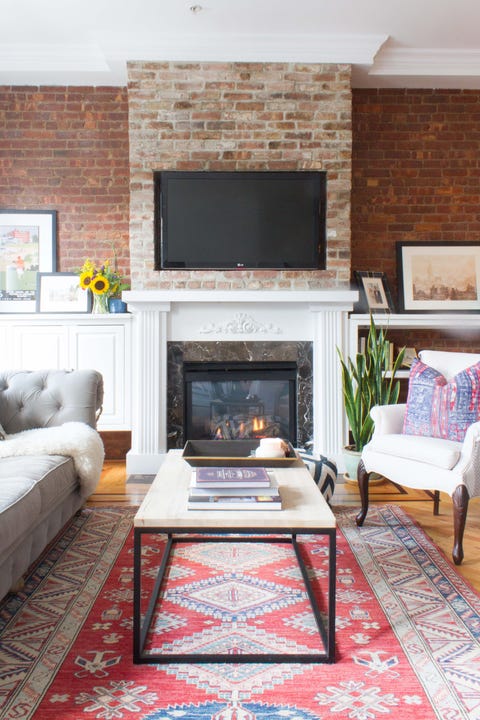 Kelsey Rose for Homepolish
18 of 53
Statement Rug
The key to subtle color lays at your feet. A patterned carpet plays up the neutral furniture in a New Jersey home, while a similarly-hued pillow adds another punch to the armchair.
SHOP BOHO RUGS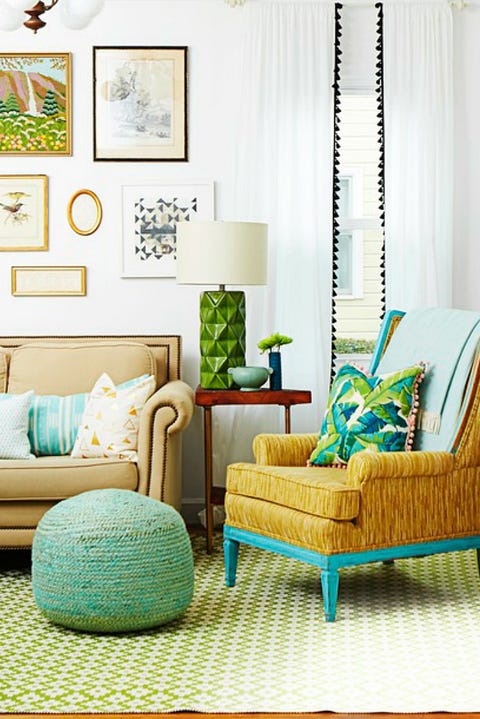 Mike Garten
19 of 53
Fast Fixes
Makeover a room by rethinking the pieces you already have. Use up leftover wall paint on the frame of an old chair or refresh curtains and pillows by sewing fancy trim along the edge.
SHOP POM-POM CURTAINS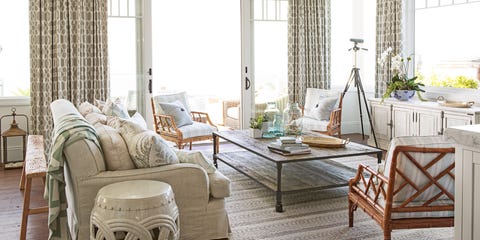 Lisa Romerein
20 of 53
Subtle Pattern
Avoid future boredom with calm colors using texture and pattern. In a dreamy beach house, muted prints in the same palette keep a neutral room from looking bland.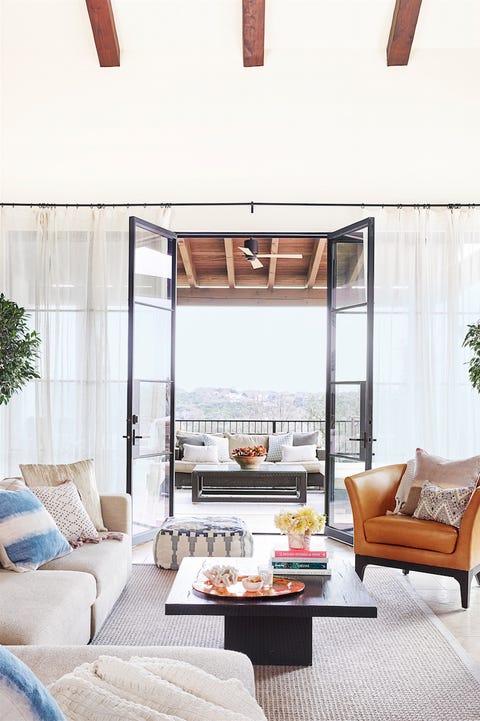 Casey Dunn
21 of 53
Sheer Curtains
The quickest way to let light in starts at the source. Replace heavy fabric curtains with gauzy ones, making sure the panels go all the way to the floor. To accentuate a tall ceiling, mount the drapes about a foot above windows and doors.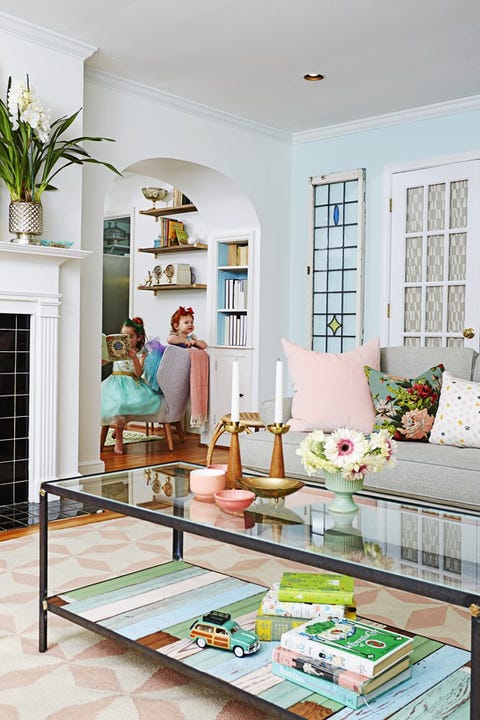 Mike Garten
22 of 53
Second Surface
Change up tired decor with this quick DIY. Add old wood planks to a coffee table as a bonus shelf. And skip painting — the weathered finish has more character.
SHOP FARMHOUSE COFFEE TABLES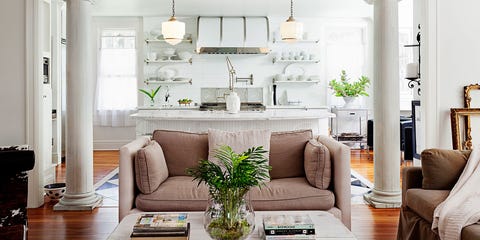 Hulya Kolabas
23 of 53
Easy Access
An open floor plan like in this Connecticut cottage creates one large space for entertaining. Two columns (garage-sale finds from years ago) stand at the corners of the kitchen, anchoring the room.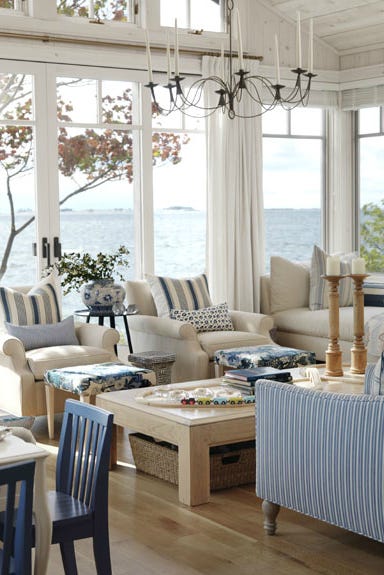 Stacey Brandford
24 of 53
Dark Accent
Look to the opposite end of the color spectrum to tie everything together. A moody blue grounds a windowed living room by Sarah Richardson without overwhelming it.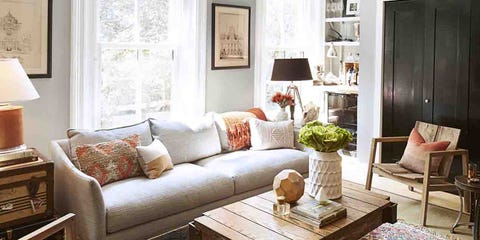 Mike Garten
25 of 53
Sneaky Furniture
Steal a space-faking secret from this tiny Brooklyn apartment. Choose a few full-size furniture pieces instead of cramming in lots of smaller ones. The living room will feel larger, and you'll have a sofa you actually like to sit on.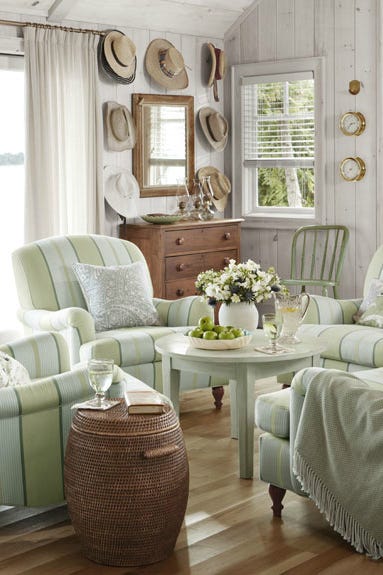 Stacey Brandford
26 of 53
Bonus Materials
Don't forget to punctuate color with natural texture. Sarah Richardson used wicker baskets, a wood-frame mirror, and an antique pine dresser to warm up this rustic cabin.
SHOP WICKER TABLES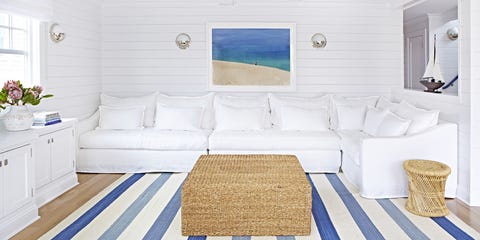 Jacob Snavely
27 of 53
Blank Space
Start with an all-white canvas and swap in seasonal accents all year-round. This summery living room uses cool blues, jute accessories, and nautical accents for a beachy vibe.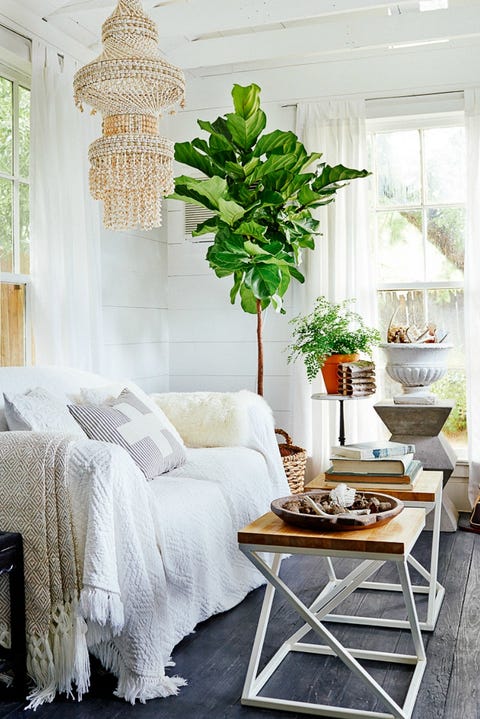 Cody Ulrich
28 of 53
Light and Airy
Measuring just 250 square feet, a tiny guesthouse copies a staple of Scandinavian style. Bright white shiplap creates the illusion of added space.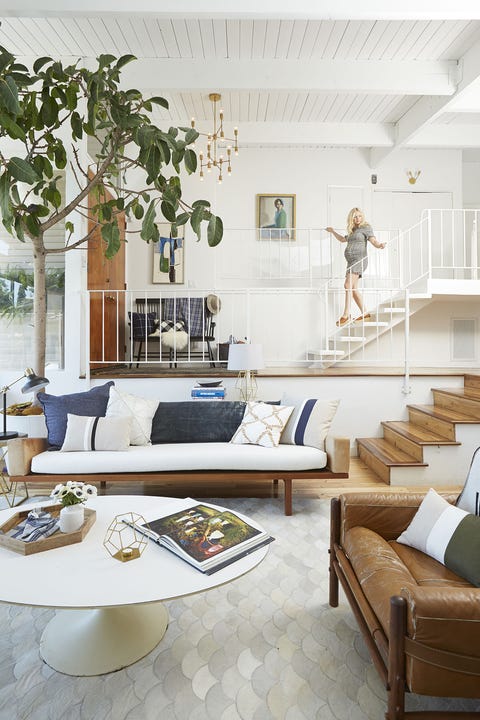 Mike Garten
29 of 53
Cohesive Palette
HGTV host Emily Henderson uses a "hero color" throughout every room to pull it all together. In her Los Angeles home, blue with gray and olive accents creates a casual, layered look.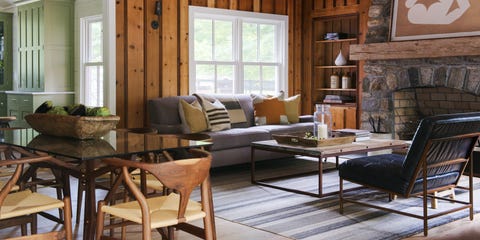 Jane Beiles
30 of 53
Natural Textures
This Connecticut farmhouse nails country style. Underused neutrals rust and charcoal echo throughout with woodsy elements like oak, cedar, stone, and leather.
Advertisement – Continue Reading Below
This content is created and maintained by a third party, and imported onto this page to help users provide their email addresses. You may be able to find more information about this and similar content at piano.io
This commenting section is created and maintained by a third party, and imported onto this page. You may be able to find more information on their web site.