We use affiliate links. If you buy something through the links on this page, we may earn a commission at no cost to you. Learn more.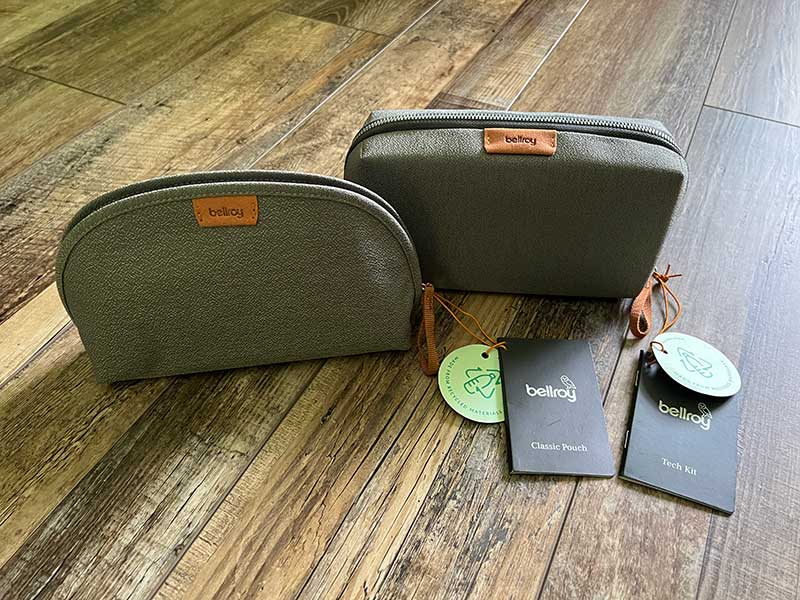 REVIEW – When you're a Gadgeteer like all of us, you need pouches to hold your gear when you travel (even it's just a quick trip to the office). Bellroy has a great selection of well-made gear pouches and today I want to show you their Classic Pouch and Tech Kit. Let's take a look.
What is it?
The Bellroy Tech Kit and Classic Pouch are small zippered pouches that will help you organize your gear, doo-dads, and thingamabobs for travel.
Bellroy Classic Pouch design and features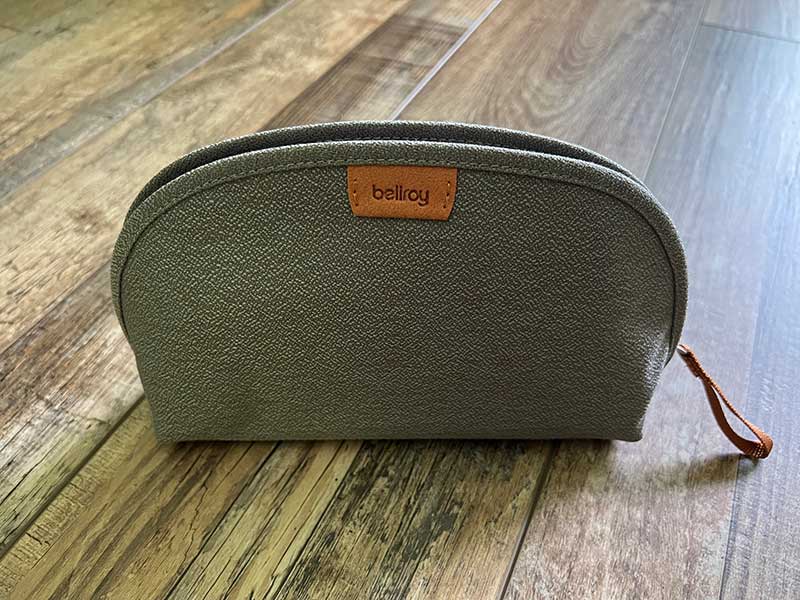 The Bellroy Classic Pouch is made of water-resistant fabric that has been made from 100% recycled PET bottles and has a pebbly texture. It's available in 4 colors including the Limestone color that we see here. This color is leather-free if that is important to you.
The Classic Pouch has a simple design with a small suede or felt tag with the Bellroy logo that is sewn into the top edge of the bag, and there's a woven zipper pull that is attached to the metal zipper.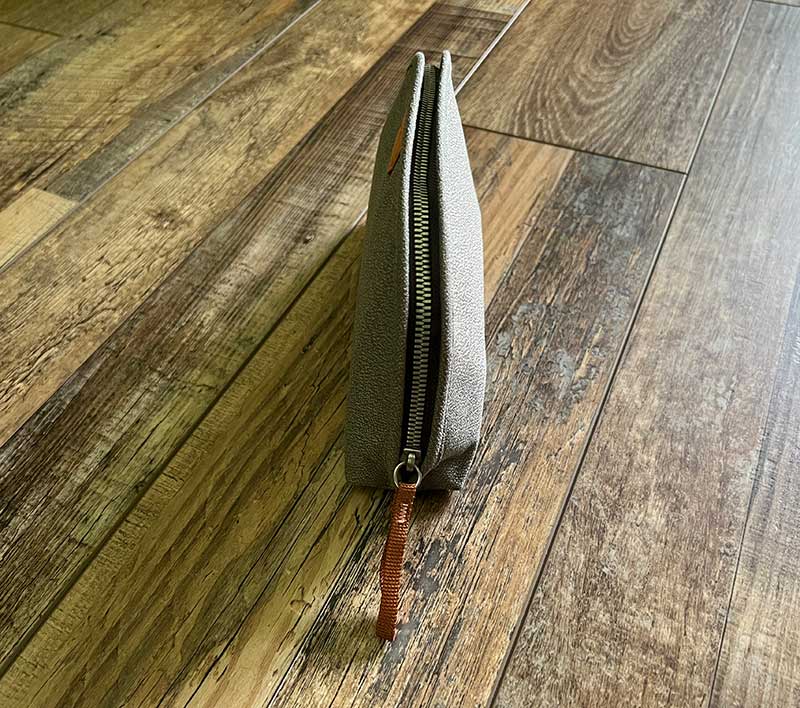 The Bellroy Classic Pouch is 8.86 x 5.51 x 2.28 inch (225 x 140 x 58mm) and has a half-moon clamshell-style shape with a zipper that wraps around the curved edge.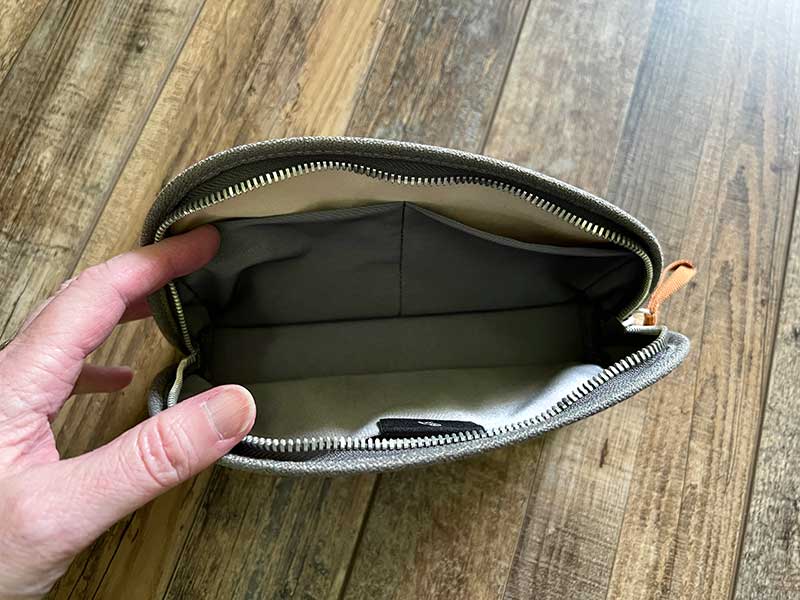 Inside the pouch are two stretch mesh pockets in grey that are sewn into one "wall" of the pouch.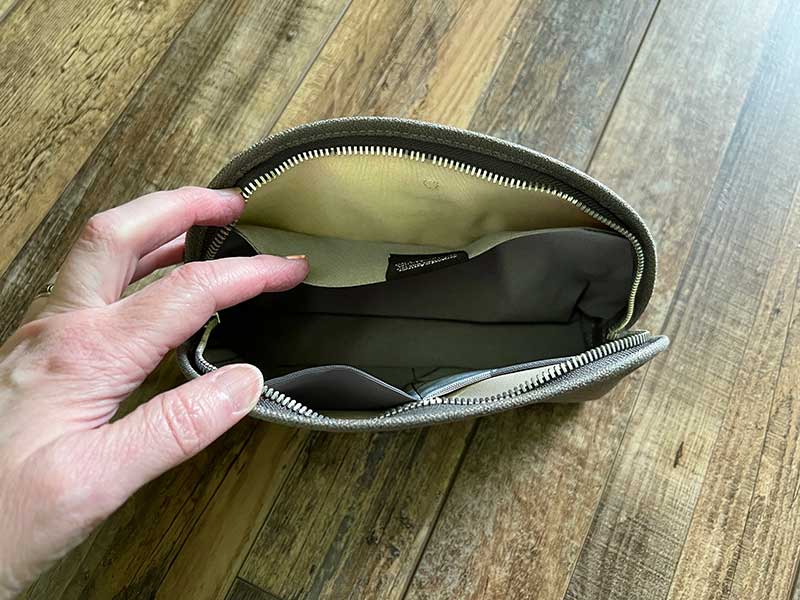 The opposite "wall" of the Classic Pouch has a large pocket with a magnetic tab on the top edge.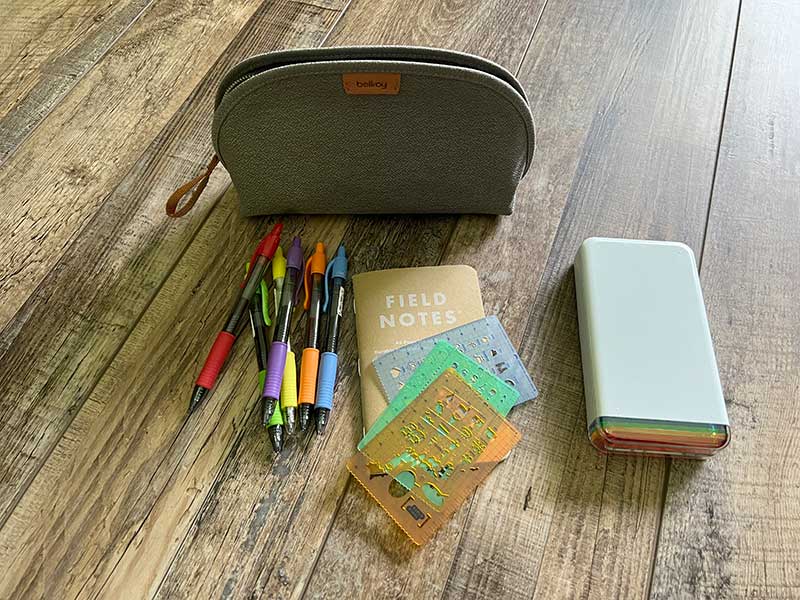 I used the Bellroy Classic Pouch as a journal gear holder for my recent vacation to Shipshewana, Indiana. I used the pouch to carry:
6 Pilot G2 gel pens
1 Field Note notebook
3 Hobonichi stencils
(not shown) miscellaneous stickers, a glue stick, and a small pair of scissors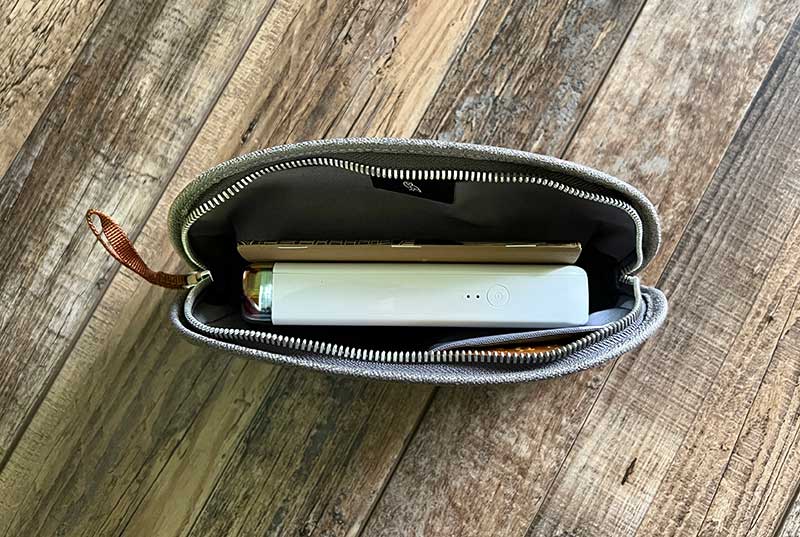 The Bellroy Classic Pouch held this gear perfectly and had room for even more! The stretchy pockets allow you to cram extra items in with ease.
I also want to mention that the zipper has a smooth action. It drives me nuts when I have to fight with a zipper, and I didn't have that issue with this pouch.
If you're looking for a small pouch for small items, I really like this pouch.
Price: $49
Where to buy: Bellroy.com and Amazon
Bellroy Tech Kit design and features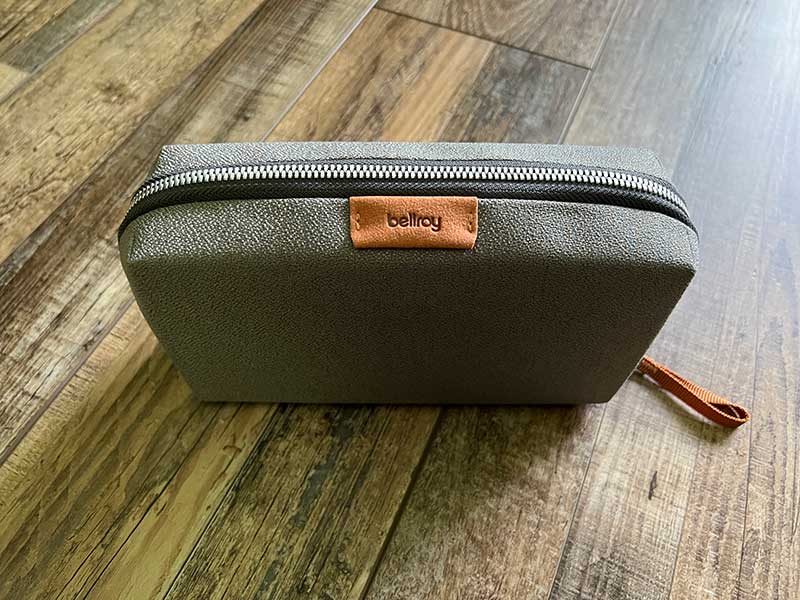 If you want to carry more gear than the Classic Pouch can hold, the Bellroy Tech Kit is a great step up because it's not too big and it's not too small. It's just right!
Like the Classic Pouch, the Tech Kit is available in 6 colors and I was sent a matching Limestone version which is leather-free. There is also a Tech Kit Compact version that is smaller and only available in 4 colors.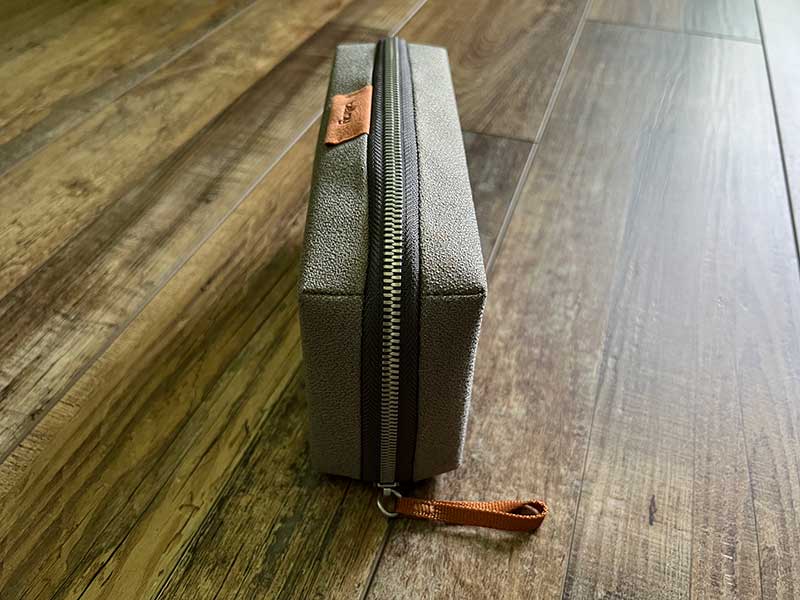 This 5.12 x 9.06 x 2.83 inch (130 x 230 x 72mm) zippered pouch has a rectangular shape and features the same type of sewn-in logo tag, zipper pull, and zipper as the Classic Pouch.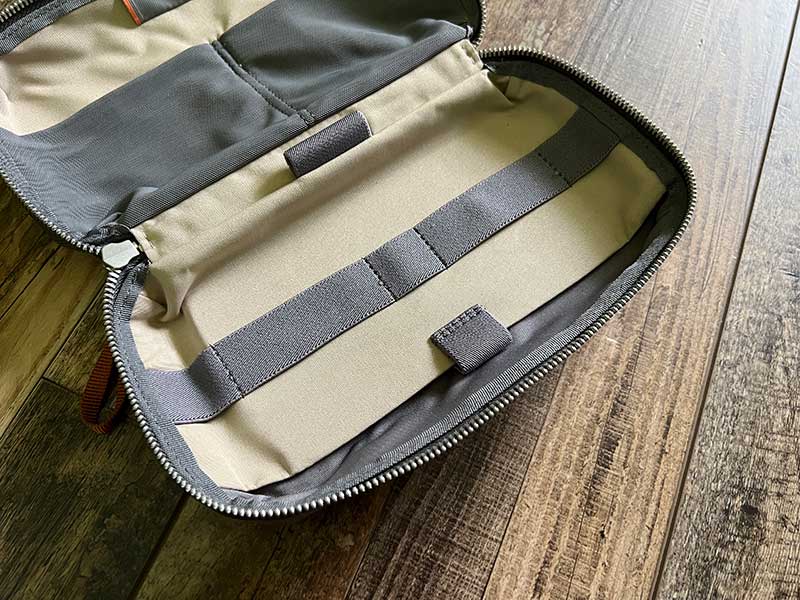 The Bellroy Tech Kit's zipper extends around 3 sides of the pouch so that when it's fully unzipped, the whole pouch lays open like a book.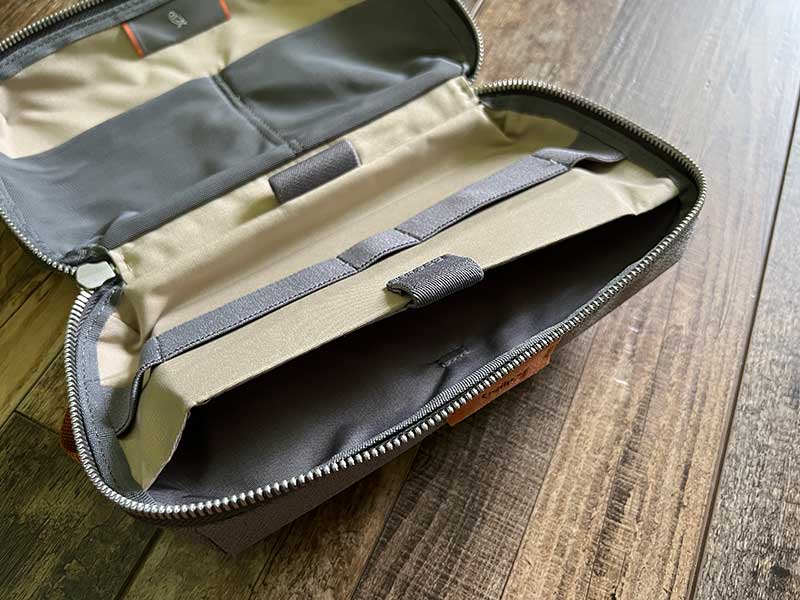 Both sides of the Tech Kit have storage areas. One side has a large pocket fold-out pocket that can hold a power bank. It has a strong magnetic closure and an elastic strap that has been divided into 5 sections.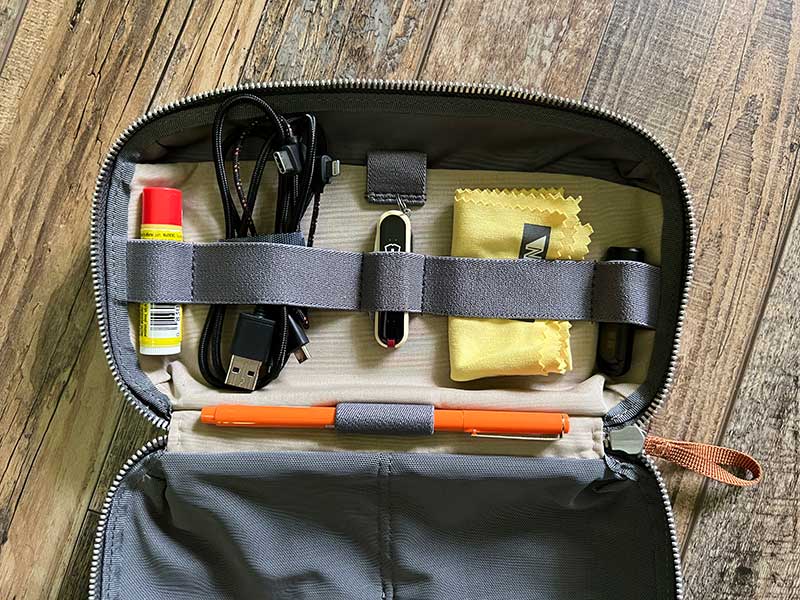 There's also an elastic strap in the "spine"/center of the pouch that you can use to hold a pen, pencil, stylus, Apple Pencil, etc.
I used the elastic strap to hold a lip balm, USB charging cable, pocket knife, polishing cloths, and a small flashlight.  In the pocket behind the elastic strap, I put some folded papers with my vacation plans.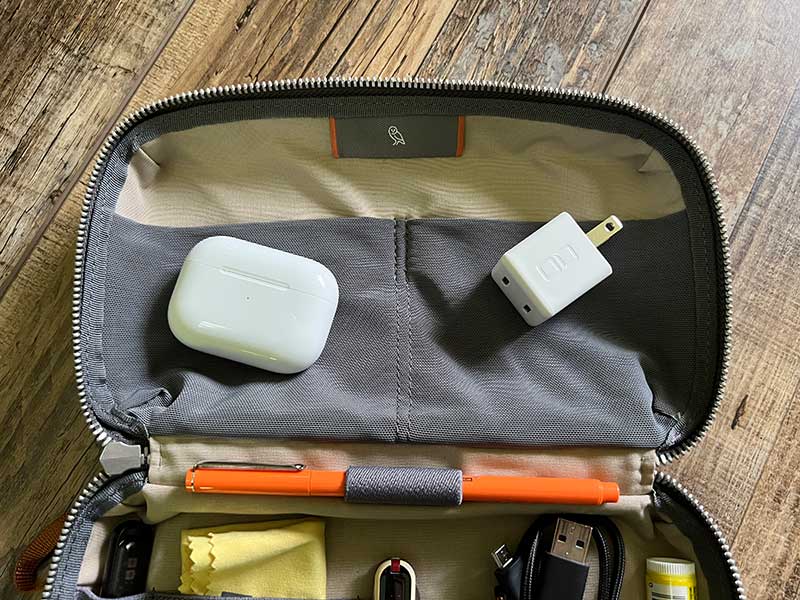 The opposite side of the Bellroy Tech Kit has 2 large stretch mesh pockets that easily hold my Apple Airpods Pro and a USB-C power adapter.
At only $10 more than the Classic Pouch, the Tech Kit (full-size version) is a great pouch for larger bulkier items. I really like that it zips open to lay flat. Another advantage over the Classic Pouch is that the sides of the Tech Kit are thicker and provide a bit more protection for your gear.
Price: $59
Where to buy: Bellroy.com and Amazon
What I like
Well made
Opens flat for easy access
Available in an environment-friendly and leather-free version
What I'd change
I can't think of anything
Final thoughts
You won't stress about your gear when packing for travel when using zippered pouches like the Bellroy Classic Pouch and Tech Kit. These well-made pouches will let you organize your gear so you'll know exactly where everything is when you need it.
Price: $49 – $59
Where to buy: Bellroy and Amazon
Source: The sample for this review was provided by Bellroy.
Julie Strietelmeier

Source link